[ad_1]
PEARCY – Jon Shultz, principal of the Lake Hamilton High School Power Band in Arkansas, said students had handled the COVID-19 pandemic "very well" in the 2020-21 school year and expects to an "almost" normal school year this year. publication date.
"We had tons of restrictions. We had more restrictions, I would say… than any other activity. Very preventative," said Shultz. "As far as I know, there has been a lot of research that no student has received, or that a teacher has had COVID in the context of instrumental music, caused by the instruments. plethora of things we needed to follow. "
Video not playing? Click here https://www.youtube.com/embed/AI36zlIxYbw
Students have their own instruments and Power Band members do not share instruments in Lake Hamilton.
The centerpiece of the band this year is a "work of art" that is "literally designed to showcase children at play".
The show will open with "Undecim", which means "the eleventh hour". It was custom written for the wind ensemble in 2012.
"It's a very difficult piece. And then we decided we wanted to find something very familiar, but not very familiar to the kids, but it meant something to the program," Shultz said.
The centerpiece features three other movements, "One Man Show," which will feature a large moving canvas, "The Prayer" and "Choreography," by Robert Sheldon.
The drum majors for this walking season are Kaden Mays, Cora Breshears and Nikki Newell.
In the past, the band have made music that has a "little pop flavor" to it.
"'The Prayer' is a bit pop-ish. We're supposed to be at the big nationals again. After doing so well two years ago, it's time to improve our game a bit," said Shultz.
"We needed something with a little more sophistication, but at the same time, I think people are really going to relate to that because the music is fun. It's big, it's loud. is kind of the music we're known for, "he said. .
The centerpiece is designed by a professional designer. Shultz and the team have Zoom meetings and discuss student strengths and program strengths.
"(The designer) came up with the idea of ​​presenting the students, their performance qualities and through the different forms of art or music through dance through painting," said Shultz.
The Power Band is grateful for the opportunity this school year to showcase their music to the community.
"It feels like an almost normal year and the students are working really hard," Shultz said.
Left to right, Lake Hamilton High School squad members Levi Stratton, Sydnee Murders and Anthony Guevara practice Thursday. – Photo by Richard Rasmussen of The Sentinel-Record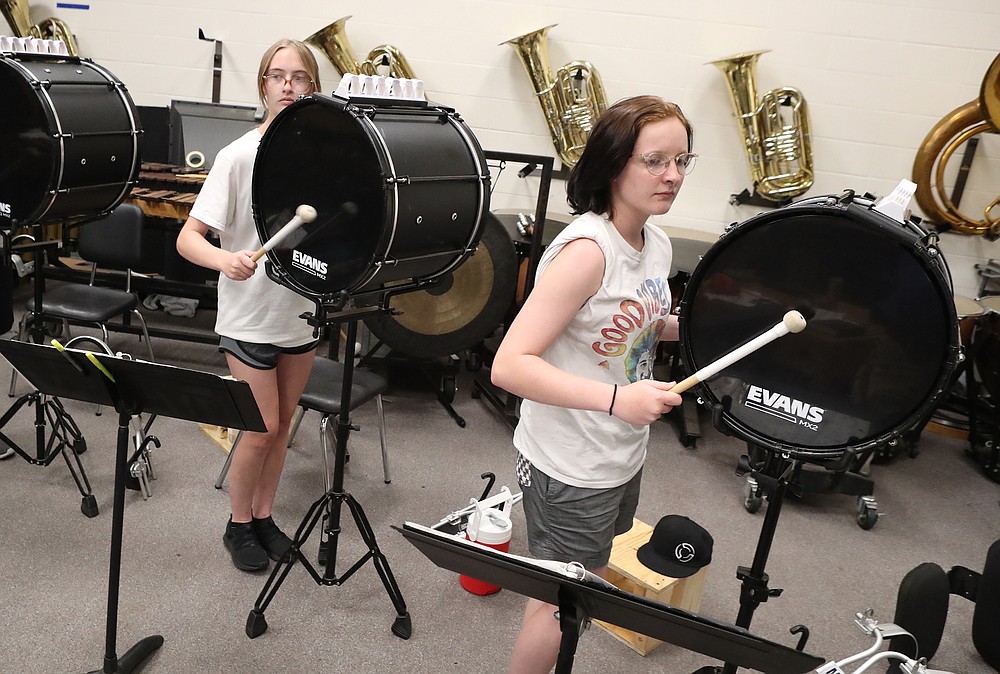 Chloe Berryhill, left, members of the group Lake Hamilton High School, and Kaileigh Roscoe train at the school Thursday. – Photo by Richard Rasmussen of The Sentinel-Record
[ad_2]