Originally from the Philippines, Intolerant is a configuration of members of Filipino metal bands church of heaven and Loss of control—singer/guitarist Russell Dela Cruz and guitarist Joey Dizon being from the old, and bass player Mic Gallegos and drummer Pepo Gohu of the last.
While the band has been on hiatus for a long time, they recently re-released their 2010 debut album Reasons for troubles which features ten powerful tracks that are particularly characteristic of the Intolerant sound.
moving train caught up with guitarist Joey Dizon, who opened up about this latest re-release of their debut album and recounted the formation of the band, specifically how they wanted to form a team that deviated from the politics of the heavy metal scene.
---
To start, how would you describe the metal brand of Intolerant?
Intolerant was born out of two bands, Skychurch which was a crossover thrash metal band, and Loss of Control which was a bit more extreme with lots of blast beats and fast stuff. It was a combination of both. I guess for convenience it was really a metalcore band with the best of thrash and hardcore because we were also really big on bands like mad ball and hate race.
At the time, that was what we wanted to do, but lamb of god was also becoming very important and so we kind of integrated that. We came from the underground scene but we wanted to get away from that stereotype so our first song was actually a heavy metal ballad. What we had in mind were songs like 'Fade to black' Where 'Nothing else matters' through Metallic. Originally it was supposed to be our version of moving away from metal, but we ended up writing metal songs anyway, so we figured we couldn't walk away from it no matter what. we were doing.
Your first full album Reasons for troubles was released in 2010 – how does it feel to know it's been a decade since?
Well, that makes us feel old. It all happened so fast. Basically, Intolerant was so inconsistent with what we wanted to do. We only wanted to play on Fridays and Saturdays because in Manila, the reality is that you can't be in a band, you also have to work. We said we wouldn't do weekdays because we were already involved with bands that were very busy, so we just wanted to do it for fun. But for some reason people liked it, and a lot of unexpected things happened.
Our first gig was in Hong Kong and we didn't even have a CD at the time. We went there to play a set and we only had nine songs, so we had to play two songs again because the crowd wanted more. Things basically happened very quickly.
Tell me more about the reissue of Reasons for troubles. Why did the band decide to reissue this album?
Intolerant bent unexpectedly. All of a sudden we realized we didn't want to do it and a lot of us weren't on good terms anymore. But when Spotify happened, someone uploaded the whole album. Because we weren't talking, I thought it was the other guys, and they probably thought it was me. We come from a very punk-rock, hardcore, DIY or whatever ethic, so everyone thought, as long as it's there, it's okay.
But just before the pandemic, Pepo, our drummer called me and said people were listening to the album. We realized that whoever downloaded it was making money that should have come back to us, and it wasn't like we wanted that money, but we thought maybe we should take back control of our songs . We initially wanted to re-record the album and we even planned a studio but due to the pandemic we couldn't do it so we just decided to re-release everything.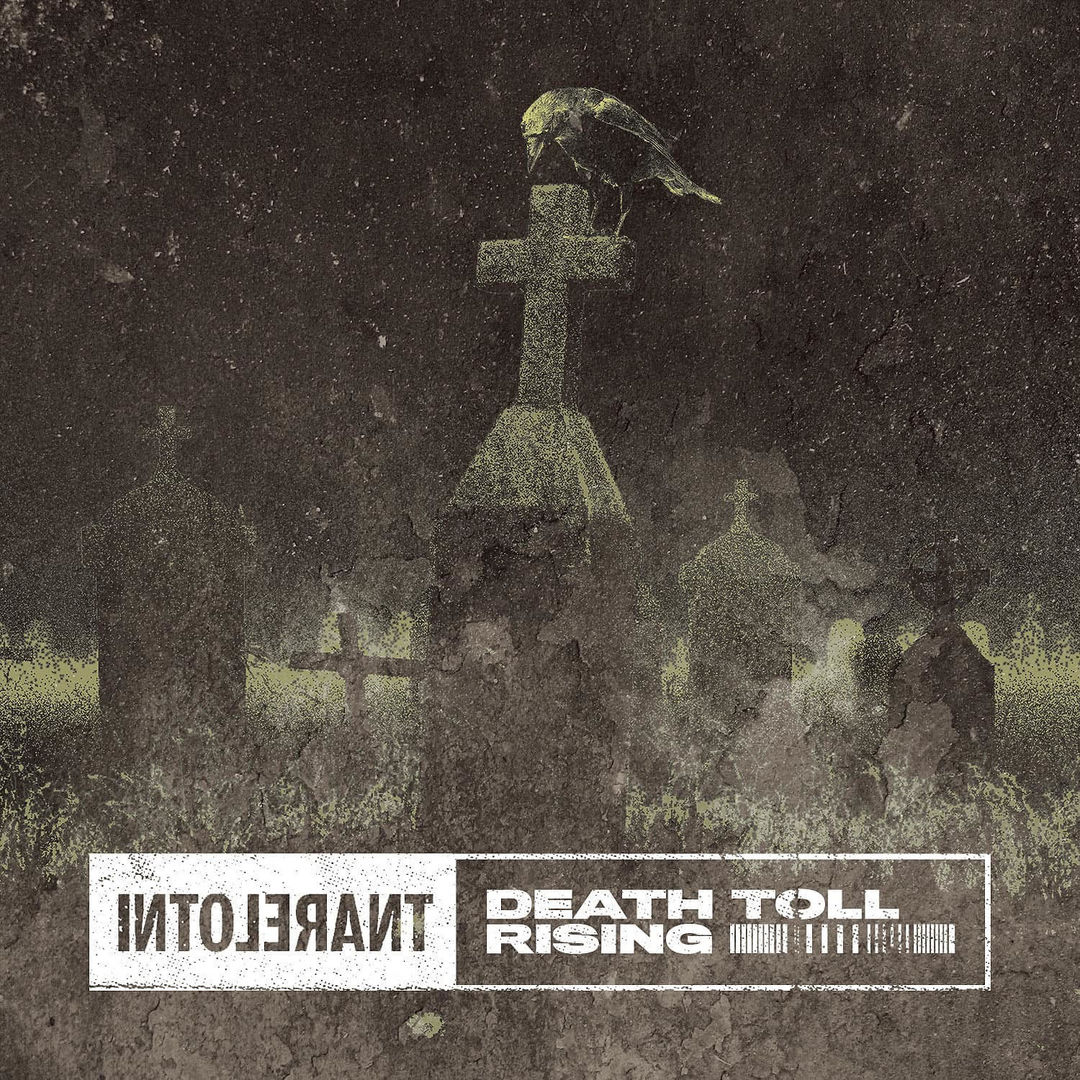 The new artwork was done by Doyle See. What was it like working with him for this?
Doyle is great. When we were still there over ten years ago it was this kid from Cebu province who was doing this really cool art and we didn't know he was already doing illustrations for international bands. We were supposed to do some merchandising because we had a bunch of t-shirt designs but the band ended so abruptly.
We just kept in touch over the years, and when we knew we wanted to re-release "Reasons For Unrest", I called him to get his permission to use his art. I was surprised because Doyle wanted to make us a new set of artwork. I was already working with him on a lot of stuff like the Maternity charges re-releases as I'm in the business of re-releasing old stuff that has never been released on Spotify.
Off the record, your song 'Eye For An Eye' is quite reminiscent of Slayer and 'God of War' seems like a nod to Pantera—are you inspired by those bands?
Oh yes, absolutely. There was so much debate in the band – Mic and I argued because he said it sounded too much like Pantera, and I was like "that's the point." They are our heroes and you can't really hide your influences, especially in metal. There's always room for creativity and you can always put a new spin on things, but those are the classics. With 'An eye for an eye' I just wanted to make a song that would thrill people. Rather than cover a Slayer song, I thought we should just do a song that sounds like them.
Either way, we've never been ashamed to wear our influences on our sleeves, and you've hit the nail on the head. 'God of the war' is a very Pantera song and 'Eye For An Eye' is a very Slayer song. We argued about it but when we released it, I guess people didn't pay attention to it. The occasional underground jerk would be like "you ripped them off" but that's totally the point, we don't hide that fact. It's total Slayer.
And, are there any other bands that influenced the creation of Intolerant?
Many of our influences are actually non-metallic influences. We were tired of being called soldouts. We were tired of people telling us you can't do that if you're a metal band. The two bands, Skychurch and Loss of Control, were both so tired of politics that we wanted to put together a band that had no rules. Our thing was that we were a metal band that played non-metal shows. We were really breaking the mould. We wanted to be part of this live circuit.
A lot of our influences were the big four, and when it came to Lamb of God, we weren't trying to sound like them, but we were influenced by the way they put their sound together. Russell and I are also fans of very good pop music. I always joke that if Boyz II Men and Slayer had a gig on the same day, I'd probably go to the Boyz II Men show. Mic was really into this weird artistic shit like Explosions in the sky and Sunn O))) kind of stuff. Pepo also designs hip-hop albums and tracks, so it was never about just one type of music. That's why we were so eclectic and there were so many left turns on the album.
Since your debut, you have played for notable events such as Fête de la Musique in 2007, UP Fair in 2008 and PULP Summer Slam. Of all the concerts you have given, which have been the most memorable so far?
the PULP the gigs weren't really memorable for me because I was working there, and it was tiring to work and then play a gig but we opened for a lot of bigger bands like hate race and Sworn enemy. We were also on the same bill with Angel of Death.
The overseas shows were even more memorable because at that time it was kind of unheard of for a metal band from the Philippines to tour and do it right. There's also this stereotype that if you're a metal band, you have to play in bad conditions, but we wanted to do it right. We wanted to make the finances work and do it professionally, and we were actually really lucky because Hong Kong came along. The Hong Kong show was what kicked things off for us. We got to play with some really cool bands like shepherds the weak.
When we played in Singapore it was kind of like a homecoming show because a lot of our Filipino friends who were working there showed up, and we played with some amazing bands like Let the truth be known and other local Singaporean bands that really blew us away. It was a big gathering of metal bands.
How would you say Intolerant is different from other metal bands you've been in?
I played guitar in a bunch of bands including a punk band and an alternative band that did 90s stuff but Intolerant is really different because it's one of those things that just happened. There was an element of planning, but it all happened organically. But when something happens organically, it can also fade very quickly.
I guess it was kind of an intolerant experience. He's accomplished so much in such a short time by heavy metal standards. I'm in no way claiming we were a big band or anything, but it was a wild ride and everyone got on the crazy train. We had to navigate our way through all this craziness and played anywhere and everywhere for 4-5 years.
We knew we wanted it to be a standalone band, so we were doing things that were kind of unheard of in our circle. We were also getting sponsors so we learned the trade on the fly. It has become an entity larger than the four of us. It really was a well-oiled machine, but then it fell apart. It's such a cliche, but I guess that's really how it works – you have that chance in a million and you take it and ride it to the very end.
Finally, do you have any future plans for Intolerant? Since the band has been on hiatus for a while now, I was just wondering if you guys have any projects going on?
I have a bunch of solo stuff that I was recording over the years. There was a track that was kind of an intolerant song that was never released. Basically the music was written by me, Pepo and Mic but I released it with other guys from Hong Kong in collaboration. It was a single called 'The power of your words.'
Pepo and Mic are so open-minded and musically creative that they're always exploring other things, and when we released Intolerant we were saying maybe we should release the others under one account. We thought that was a good idea, so that might be the thing for the future. Russell is busy with Skychurch so at the moment I would say there are no definite plans. But you know, never say never.
---
to listen "The reasons for the troubles" to Spotify.
---