Photo: KARMANT
">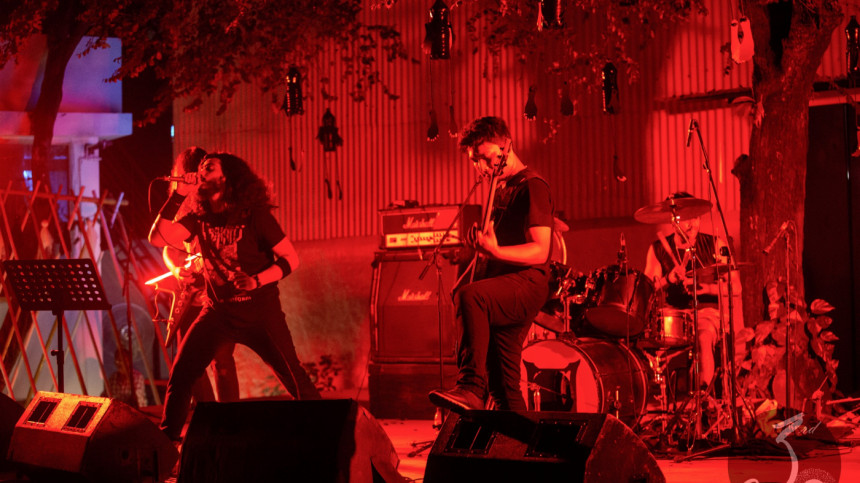 Photo: KARMANT
In 2016, Zami Hossain took the initiative to take his love and passion for thrash metal and form his own band KARMANT. Since then, KARMANT has continued to grow. Their music spoke of many social issues including abortion, potential threats from the Rampal Power Station, 2018 student road safety protests, and more through thought-provoking lyrics.
As a founding member, Zami, who had been playing in the underground scene since 2011, was heavily influenced by thrash metal bands of the time. It took him about five years to gain experience and make the bold decision to form his own band based on his own personal beliefs early on, giving rise to the name of the band, "KARMANT".
For all the latest news, follow the Daily Star's Google News channel.
For Zami, KARMANT is the place where he was able to creatively execute his ideas, his concepts and express himself without limits, through his favorite musical genre.
"Personally, I believe that what happens happens. So, I first named my group 'Karma'". However, to keep his band unique in every possible way, he later changed the name to 'Karmant', a modified version of 'Karma not' or 'Karman't'," he said.
He further explains, "The purpose of naming my group 'KARMANT' is to keep intact one of the characteristics of Karma in the name which is 'Karma does not spare!' "".
Currently, the band consists of four members, Mahdee Manzil as vocalist, Zami Hossain as bassist, Rumman Sharier as guitarist and Naweed Kabir as drummer.
Without a leader, Zami often takes charge of the group's next steps keeping in mind how to grow and develop the group. However, it took some time for the group to have stable members.
Photo: KARMANT
">
Photo: KARMANT
Mahdee Manzil, a freshman at BRAC University in the Department of Computer Science and Engineering, has been the vocalist for KARMANT since September 2021. With the addition of Rumman Sharier, currently a law student at Professionals University of Bangladesh, as a guitarist since 2017 and Naweed Kabir, a senior at BRAC University in the Department of Computer Science and Engineering, as a drummer in 2020, the band now has fixed members. With dedicated members, they began to steadily advance in their music.
In July 2022, the band was invited to "SICK TOUR II (Kolkata Extreme Metal Fest)" organized by Kolkata Metalheads, an organization that started as an independent platform to showcase bands and artists from Kolkata and other regions of India with a list that has grown to transcend international boundaries.
In this showcase, KARMANT was the only representative of underground Bangladeshi music. "Representing my country's underground scene internationally is indeed an achievement," Zami proudly states. It was a win for the band not only to represent the country internationally, but also to give the band members the experience of performing in front of a culturally different audience.
In the eyes of the general, thrash metal as a genre may seem lacking in substance. The violent nature of the music often creates the image that metalheads are aggressive and hostile.
Zami refutes this stereotype and says, "Believe me, metalheads are one of the most amazing souls to befriend."
He argues that as a genre "metal music cannot be placed under the jurisdiction of any philosophical idea" nor be "overthrown or overpowered by any other philosophical ideology. It has no specific boundaries or limits. Metal music, to me, would be analogous and contemporary to art and poetry, therefore the rhetoric of it cannot be confined to a single, monotonous philosophy.
Being based in Bangladesh, the group is aware of its limited options and challenges. Despite the reality, the members are invested in their music not only for themselves but also put Bangladeshi underground metal music in the spotlight.