LAB wins Best Record at NZ RollingStone Awards 2022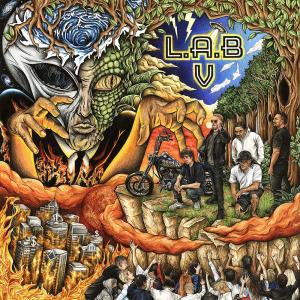 LAB V album cover (art: Natalie Mentor)
LAB wins four Aotearoa Music Awards 2021: Single of the Year; Album of the Year; Best Roots Band and Artist
LABORATORY live show
LAB live at Massey Studios
The first-ever edition of the awards saw the band win Best Record for the chart-topping album LAB V.
LAB is set to release new material to close out 2022, followed by a series of regional flagship shows in New Zealand. Further tours in Australia and overseas are coming in 2023 as well…"
— Loop recordings
LONDON, UK, Sept. 5, 2022 /EINPresswire.com/ — LAB wins Best Record at the Rolling Stone New Zealand Awards.
The group won the award against other nominees including BENEE, Aldous Harding and Crowded House.
The win follows winning Album of the Year, Single of the Year and Best Group at the 2021 Aotearoa Music Awards.
WINNERS LIST
Rolling Stone best record
Winner:
LAB – LAB V
Nominees:
Stan Walker – Te Arohanui
BENEE – Lychee
Ladyhawke – Time flies
Yumi Zouma – Present
Fountain Reb – IRIS
Aldous Harding – Warm Chris
Crowded House – The Dreamers Await
Full list of winners here
LAB is set to release new material to close out 2022, followed by a series of regional flagship shows in New Zealand. More tours in Australia and overseas are coming in 2023 as well…
Editor's notes:
GROUP MEMBERS
Ara Adams-Tamatea – Bass
Miharo Gregory – Keys
Brad Kora – drums, vocals
Stu Kora – Keys, Vocals
Joel Shadbolt – guitar, vocals
Social
https://facebook.com/LABmusicNZ
https://instagram.com/lab_music
https://tiktok.com/@lab_music
Discography
LAB, released November 24, 2017, certified twice Platinum
With the only "controller", certified five times Platinum
Platinum Certified 'Ain't No Use' & 'Starry Eyes'
'She's Gone' and 'Jimmy Boy' certified Gold
Feed/purchase – https://smarturl.it/LABI
LAB II, released on December 21, 2018, certified Platinum
With the Platinum-certified single 'Rocketship'
'Baby Will You Let Me' Certified Gold
Feed/purchase – https://smarturl.it/LABII
LAB III, released December 6, 2019, certified twice Platinum
With the single 'In The Air', certified seven times Platinum and Gold in Australia
'For The Love Of Jane', Certified Platinum
'Personify', 'Shadows' & 'Running' certified Gold
Feed/purchase – https://smarturl.it/LABIII
LAB IV, released on December 18, 2020, certified Platinum
With the single "Why Oh Why", certified three times Platinum
'Yes I Do', certified Platinum
'My Brother', 'No Roots' & 'Natural' certified Gold
Stream/Buy – https://smarturl.it/LABIV
LAB V, digital release December 17, 2021
Stream/purchase: https://ffm.to/labv
DOCUMENTARY
Full documentary (20 minutes) – https://youtu.be/rb2cug72XGI
Mt Smart Show Highlights (
Sarah Harris
Dvibes Ltd
write to us here
Visit us on social media:
Facebook
Twitter
LinkedIn
Other
LAB – 'Proud Man' live at Massey Studios